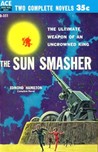 'A CROWN FOR THE STAR-CROSSED
"It can't be true! It must be some kind of hoax!" These were the words that went spinning through Neil Banning's mind when the Greenville authorities told him that the house he had grown up in, the aunt and uncle who had raised him, had never existed.
So Banning found himself in jail, charged with disturbing the peace – and maybe insanity. But when a stranger from outer space came to his cell at midnight and hailed him as the Valkar of Katuun, then Banning decided that maybe the authorities were right, maybe he was crazy. Because the only alternative was to believe the impossible explanation of the Outworlder – that he really was the exiled ruler of a remote star-world, and the personality of Neil Banning was an elaborate fraud.
It didn't really matter, though, who was right. Banning was on his way to Katuun whether he liked it or not. And as Banning – or the Valkar – he would have to save that star-world from the terror of THE SUN SMASHER…or perish with the loyal subjects he might never have known!'
Blurb from the 1959 D-351 Ace Double paperback edition
Young Neil Banning, on a business trip, decides to take a detour to his old home town. On reaching there however, he finds that not only is his childhood home a vacant plot, but that there was apparently never a house existing there. Getting more and more frustrated by what he sees as a deliberate attempt by the townspeople to cover up the past he is eventually arrested and thrown into a cell.
During the night, a stranger arrives and stages – in Banning's opinion – an unwanted rescue. The stranger is Rolf, who tells Banning that his past life is a fiction, that he is in fact Kyle, the lost Valkar of an interstellar Empire.
Kyle is needed to reclaim the throne from those who altered his memory and exiled him to Earth, and locate The Hammer, a weapon of interstellar mass destruction whose location only Kyle/Banning knows.
This is one of those odd romantic flights of fancy that imposes a medieval feudal culture on an interstellar civilisation. It features the literary devices of the amnesiac hero and the Maguffin which in this case is a device (as can easily be deduced from the title of the book) capable of triggering a nova in any sun.
Banning has to come to terms with the fact that he may not be who he thinks he is, while leading an army of loyal followers across the galaxy in search of a lost and terrible doomsday weapon.
Added to that, we have a feisty princess, a sundered love affair and a race of deadly telepathic spider people loyal only to the Valkar.
It is explained early on that Earth is a lost part of the Empire that has not yet been reclaimed as we are a fringe world and somewhat retarded.
One day we'll be really advanced and united under an unelected hereditary galactic monarchy. Can't wait.
---
---
---
---
---
---
---
---
---
---