The Source (Necroscope III) – Brian Lumley (1989)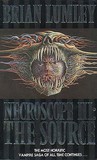 It's a very odd thing to come to terms with, but there's something very cosy about Lumley's work. Maybe it's a nostalgia for simpler times when there were good people and bad people (on both sides of the Iron Curtain) and there was an Iron Curtain.
Maybe it's because one knows it's all going to be all right at the end of the novel – at least until the next one – or maybe it's because Lumley's world harks back to an era earlier than the Nineteen Eighties. There's something very quaintly dated about E-Branch which is more Bletchley Park than a Secret Intelligence Department of the Nineteen Eighties.
E-Branch is of course the British Government's ESPer division, a group of people with paranormal powers set up to counter the USSR's own paranormal division.
Michael 'Jazz' Simmons is a non-ESP member of British Intelligence and in Perchorsk, Russia, investigating a ravine, the bottom of which has been coated with lead.
Simmons is captured and taken into the base below the lead shielding where he discovers the truth. A botched attempt by the USSR to employ Star Wars laser technology resulted in a malfunction which caused the pent up laser energy to create a 'grey hole', a gleaming sphere suspended within a cavern which permits a one-way trip for organic beings from our Earth to a parallel world, or from there to here.
The other world is the world of the Wamphyri, and some specimens have already traveled through to our world.
Now Khuv, the security chief in charge of Perchorsk, is going to send Jazz Simmons through.
Harry Keogh is back after five years in the wilderness searching for his wife and young son. They do not appear to be in the world of the living or the dead.
Darcy Clarke, now in charge of E-Branch, finds Jazz Simmons' disappearance equally baffling as jazz was being monitored by an E-Branch sensitive, and connects it to the disappearances of Harry's family.
The narrative then alternates between events here and in the world of the Wamphyri.
It's a much stronger novel than Necroscope II – Wamphyri and allows Lumley to examine what Wamphyri life might be like if these lone predators had to live and share resources with each other.
If nothing else this series is a wonderful reinvention of pulp fiction, and one gets the impression (by some kind of literary osmosis) that Lumley loved writing this stuff just as much enjoyed reading it. It was never going to win any Hugo awards but to be honest, given the choice of reading one or two of their less justifiable nominations and these, I'd go for the Wamphyri every time.