The Sword of The Dawn (Runestaff #3) – Michael Moorcock (1968)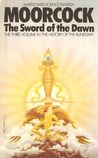 Moorcock returns to form after the rather flat 'Mad God's Amulet'.
The inhabitants of Castle Brass, voluntary exiles in a parallel Earth, become anxious when the Granbretanian playwright Elvereza Tozer (whose works include the classic 'Adulf and Shirshill') suddenly appears in their dimension. It transpires that he can travel through the dimensions with the aid of a crystal ring made by Mygan of Llandar. Hawkmoon and D'Averc must therefore travel back to their own world to find Mygan before Meliadus discovers the secret of Mygan's rings.
To discover the Granbretanians' plans, the pair disguise themselves as ambassadors from Asiacommunista, and hide in full view at the centre of Granbretanian life, Londra.
They are unmasked by the resourceful Flana Mikosevaar, who falls in love with D'Averc and helps them escape to find Mygan in the land of Yel.
Rescuing Mygan in the nick of time they use his rings to transport themselves to a land where a dying – yet technologically advanced – people live in underground communities, and are being slowly hunted to extinction by a genetically engineered species who feed on their life-force.
The Warrior in Jet and Gold once more appears and tells them to seek Narleen and the Sword of The Dawn. Narleen, is of course, the future New Orleans and the adventurers later discover themselves to be in Amarekh.
They escape once more only to be captured by the sinister pirate-king, Valjon who is using the mysterious sword to maintain his power over the area.
When Hawkmoon's new ally, Phal Bewchard, is kidnapped by Valjon to be used as a sacrifice to his ancestor-god, Hawkmoon is forced once more by fate or circumstance to raid the pirate citadel, save his friend and seize the Sword of the Dawn, which can summon legions of dead warriors to fight at his side.
The book ends when The Warrior in Jet and Gold insists that Hawkmoon take the sword to Dnark where it is needed, but Hawkmoon is already plotting to defy the Warrior and set sail for Europe.